Netflix Instant Picks: Jesus Camp + Baron Munchausen
Netflix Instant Picks: Jesus Camp + Baron Munchausen
Jesus Camp (2006) / Documentary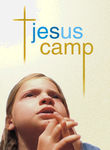 This documentary follows pastor Becky Fisher, the founder of Kids on Fire Bible camp in North Dakota. The film does not have an in-your-face agenda. But doesn't portray the experience very positively either. It stands out that these children are being indoctrinated to follow the religion. They are being told how to think about the world; instead of learning for themselves.
The film looked a lot at the political leanings of this Christian group. It was filmmed during a time when George Bush was in office. And most of the film is surrounded by the news of picking a new Supreme Court judge. The children are told that Bush is saving this country. And that they, too, can save this country if they convert enough people. Not that they should attend college and go into politics. But simply by praying.
However, with the film not having a blatant agenda, it also felt pretty dry & boring. I learned that, according to the film, 75% of home schooled children are Evangelical Christians. And also, according to the film, there are Christian tourists that visit mega-churches in places like Colorado City. Interesting but not life-changing.
Runtime: 84 min
Leslie Rating: 2/5
Summary: Dry documentary that films the happenings of an Evangelical summer camp.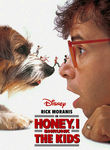 This Disney classic features the wacky inventor dad who accidentally shrinks his kids. The plot is right there in the title. But as a kid, the idea of being shrunk seemed so… neat. Using a Cheerio as a life preserver. Sliding down blades of grass. This family adventure movie is a whole lot of fun. Sure, you know what is going to happen when, but as far as Disney live-action goes, this really is a classic one that holds up well.
Starring: Rick Moranis
Runtime: 93 min
Leslie Rating: 3/5
Summary: The kids get shrunken down to microscopic levels and the parents have to save them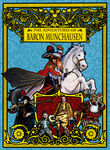 Director Terry Gilliam puts this film together like no one else could. The surreal and beautiful world includes adventures in a hot air balloon to the moon and being swallowed by a giant sea monster. Are these stories true? Of course they are. Baron Munchausen swears by it.
Every character is witty & charming. All the sets are quirky. This is a bit of an "out there" movie as any good fantasy adventure should be. Like most of Gilliam's works, you either really like it, or you don't.
Starring: John Neville, Robin Williams
Runtime: 127 min
Leslie Rating: 3/5
Summary: Terry Gilliam brings Munchausen's tall-tales to life in this well-done fairy tale.