Netflix Instant Comedy: Mystery Science Theater 3000, Clue, Trading Places
Netflix Instant Comedy: Mystery Science Theater 3000, Clue, Trading Places
MST3K: Beginning of the End (1993/1957) / Parody Comedy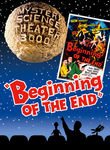 Watch MST3K:Beginning of the End on Netflix Instant
The concept behind television show Mystery Science Theater 3000 is a good one. Take old, bad sci-fi movies and make fun of them. In this episode, Mike Nelson provides witty banter while being forced to watch this film flop.
The movie plot involves giant grasshoppers attacking the city of Chicago. What's not to make fun of!
Leslie Rating: n/a
Summary: Giant grasshoppers are terrorizing chicago!
Clue (1985) / Cult Comedy
Watch Clue on Netflix Instant
Usually movies about board games are terrible (think Battleship). But Clue actually pulls it off. Largely thanks to Tim Curry, who is fabulous as usual.
When I first realized this was a movie, I was curious how they played out the ending. As a game, the ending is always different. How could they pick just one ending for the movie? Well…. you'll see! The ending is very clever.
Leslie Rating: 4/5
Summary: One of the best movies about a board game you'll ever see (plus Tim Curry).
Trading Places (1983) / Satire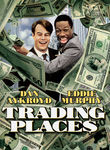 Watch Trading Places on Netflix Instant
Dan Aykroyd and Eddie Murphy lead this strange satire about two men (one rich one poor, of course) 'trading places' in life. Eddie Murphy becomes rich and revered. Dan Aykroyd loses everything and wanders around homeless. Typical enough plot.
Their switch is predicated on a bet made by some of Aykroyd's people. Well, Murphy & Aykroyd learn about the bet and decide to get the best of them. Ooooooh.
Lots of weird satirical things happen (like black face). I can't say if it actually worked or not. It felt like the second half of the movie was completely different from the first.
Leslie Rating: 3/5
Summary: Rich Dan Aykroyd trades places with Eddie Murphy because, unbeknownst to them, two men made a bet to see if they could handle their new lives. The tables get turned in satire fashion.