Netflix Picks: Happy Holidays from Hugo, Santa vs Martians, TV Fireplace
Netflix Picks: Happy Holidays from Hugo, Santa vs Martians, TV Fireplace
Every Friday I will list personal recommendations of movies that are available on Netflix Instant Watch so you can enjoy a frugal weekend instead of buying that ridiculously expensive movie ticket.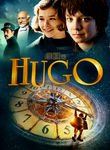 Hugo
Genre: Family
Mood: Feel-good, Awwww
127 mins; 2011
Leslie Rating: 4/5
Summary: Heart warming story of an orphan who shows folks they can't run from their past



Santa Claus Conquers the Martians
Genre: Sci-Fi
Mood: So bad it's good
81mins; 1964
Leslie Rating: —
Summary: Officially named one of the worst films ever made, that's how you know it's good.



Fireplace for Your Home
Genre: Fire
Mood: Hot Cocoa & Cuddles
forever; 2010
Leslie Rating: 5/5
Summary: An alternative for those of us without cable. And a fireplace.