How To Find an Apartment in NYC
How To Find an Apartment in NYC
I have lived in multiple states, in a whole bunch of different apartments, yet apartment hunting in NYC was my toughest experience yet.
I began living in Manhattan when a friend had a room available for me (easy enough) but I quickly began to hate living in that apartment and Manhattan.
I decided it was time to live on my own, which was only affordable in an outer borough; my choice being Brooklyn. Within the 2 weeks I spent looking at too many 1br's, I experienced & learned a whole lot. Below are some key tips for a smooth new york city apartment hunt.
Disclaimer: This information is based on my personal experience, YMMV.
Don't start looking for apartments until you are ready to move-in.
I recommend no earlier than two weeks before your move-in date. A month if you want, but just keep in mind that if the landlord finds someone who can move-in earlier, that person will get the apartment. Competition is high because demand is high.
40 Times Rule: Your annual salary must be 40 x's (at a minimum) of the monthly rent.
If you are looking at $1,300/mo rent, you need to make $52K/year or more. Sometimes the landlord will be flexible but remember, if someone else applies for the apartment and is making more than you, they will likely get it.
You will need to provide recent paystubs, rent checks, last year's W2 and a credit check to the landlord upon application.
This goes for shares and single apartments. Paystubs are to prove that you currently have an income and w2's are to show that you had a steady income last year. Freelancers need to show adequate equivalents.
Depending on the broker & season, a broker's fee runs 10-15% of the annual rent.
Apartments will be listed as "fee" or "no fee". Fee, generally means a broker's fee or some sort of non-deposit one-time fee.
The advantage of a broker is they have access to more listings and usually nicer places; also you can tell them what you want and they will just find you listings (some relevant, some not). No fee apartments do exist, but are harder to find (but I found one!).
For that $1,300/mo apartment, your at-time-of-lease-signing costs are as follows for a fee apartment:
$1,560 fee + $1,300 security deposit + $1,300 first months rent = $4,160 at time of signing. It adds up fast.
Rent is determined by the neighborhood, not the apartment.
A nicer neighborhood (safety, train access, variety of bars/restaurants) will have higher apartment prices and smaller apartments. The general assumption is that many people just don't hang out at home.
The low-end of rents in a reasonable neighborhood break down like this:
Manhattan: Share ~$1K/mo; Studio ~$2K/mo; 1br ~$3K/mo.
Brooklyn: Share ~$700/mo; Studio ~$1,100/mo; 1br ~$1700/mo
No matter what, you probably won't have much of a kitchen.
"Does the apartment come with _____?" "No."
Most buildings are older and weren't set-up for central air, dishwashers, in-unit laundry, etc. So the rents listed above include zero amenities. You're lucky to get closets, a full-fridge, or an oven in some studios. However, one bonus is that in many buildings heat + hot water are included!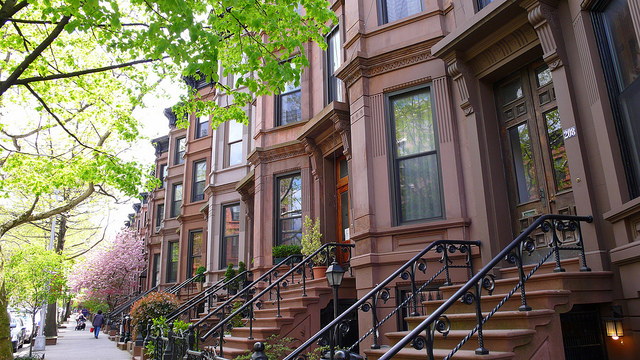 If you're apartment hunting in Brooklyn, get familiar with the neighborhood map.
It is extremely common for an apt listing to flat out lie about what neighborhood the apartment is in. Real estate agents have no shame in saying the apartment is in one neighborhood when it is actually nowhere near there. I only have experience with Brooklyn but I am sure there are Queens/Bronx equivalents.
More expensive/nicer Brooklyn neighborhoods include Park Slope, Fort Greene, Carroll Gardens/Boreum Hill/Cobble Hill, Brooklyn Heights, Williamsburg.
More block-by-block neighborhoods include Bushwick, Bed Stuy, Crown Heights.
Generally, any cheapish apartment listed in Fort Greene, is actually in Clinton Hill, and any cheapish apartment listed in Clinton Hill is actually Bed Stuy.
Generally, any cheapish apartment listed in Williamsburg, is actually in East Williamsburg, and any cheapish apartment listed in East Williamsburg is actually Bushwick.
Generally, any cheapish apartment listed in Park Slope, is actually in South Slope or below.
Really familiarize yourself with the neighborhoods. Go there and walk around a bit to see what you like and decide what you're comfortable with. Look up the addresses of the apartments broker's want to show you so you know what neighborhood it is really in.
This is important because even if an apartment is nice, it may be priced too high for the neighborhood. So knowing the neighborhood will help you determine if it's a fair price.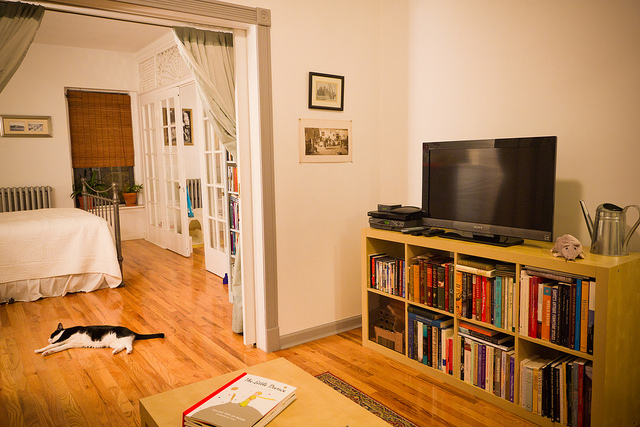 Resources
Readers…
This is solely from my personal experience and may or may not apply to everyone. Please share your own apartment hunting tips and & nyc apartment experiences!