Monthly Budget Recap: April '11
Monthly Budget Recap: April '11
Since incomes are relative, my recaps are in percentages instead of dollar amounts.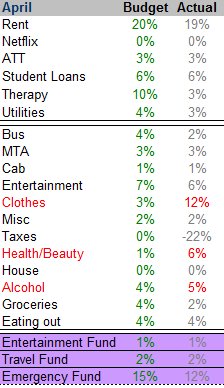 Income
I received an income tax refund but also had to pay some taxes, however the refund did make for some nice extra income this month. This is fortunate since I forgot to factor it into April's budget.
Fixed Expenses
I am still adjusting to the new apartment utility expenses which are, thankfully, much cheaper than at the last apartment.
Total April Fixed Expenses: Budgeted – 44%; Actual – 35%
Variable Expenses
I became a bit too excited about updating my summer wardrobe and spent far too much on clothes. Also, I did my annual hair highlights and should have factored that into my budget from the beginning. Thankfully my tax refund helped to balance out this over spending.
This was the first month I tracked my alcohol expenses individually. My estimate wasn't too far off but I was surprised by just how much I spent on alcohol alone. Really, it is more the cost of socializing with friends, but I would like to cut this down next month.
This was also my first full month of commuting from Jersey City into Manhattan. The commute was far less than I expected with a total of $63 for the entire month! I separate MTA (nyc subway) because that is for my own leisure purposes and is not related to my commute.
Total April Variable Expenses: Budgeted – 32%; Actual – 22%
Savings
Last month, I took money from my emergency savings to cover the security deposit of my new apartment. I made sure to replace that this month.
Total April Savings: Budgeted – 17%; Actual – 15%
Still need a budget?
Download my 2011 Budget Template!
Readers…
How did your April budget look? What unexpected expenses did you have?