Leslie's Guide to Moving: Part 2 – How To Move In A Week (in 4 easy steps!)
Leslie's Guide to Moving: Part 2 – How To Move In A Week (in 4 easy steps!)
I am putting together a moving guide to chronicle my most recent move to a new apartment. The guide will include finding a new apartment, moving cheaply & efficiently, and adapting to a new lifestyle.
How To Move In A Week
Create a new budget
Find subleaser
Sell car
Purge belongings
I will highlight each of these in future blog posts. Let's start with the first.
Create A New Budget
My first post in the "Guide to Moving" series was determining what you can afford. This involves planning. Thinking ahead to where you will be moving to, what the rents are like in the area and creating a perspective budget. But sometimes, moves happen faster than we expect.
When I was looking ahead at these NYC budgets, I knew my lease did not end until May. I was merely planning ahead but did not want to get too ahead of myself. However, at the end of February, I received an email from a friend.
Her roommate had moved out unexpectedly and they needed someone to take the room. The apartment was an hour closer to work and the same exact rent as my current one in central New Jersey. I would not need a car and the cost and time of commuting would decrease drastically with absolutely no change in rent!
Even though I had no desire to live in that part of New Jersey and was not planning on moving until the spring, I simply could not pass up the idea of saving an extra $500 a month.
Proposed Budget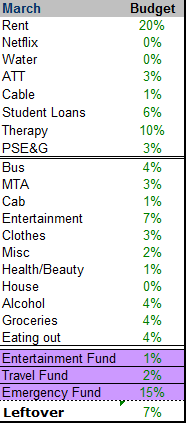 I was able to take out all my auto expenses, cut the commuting costs in more than half and not have to change much else! Although the thought of a spontaneous move was daunting, to be able to save a considerable amount of money each month was certainly an unexpected opportunity I was very happy about!
So readers…
Would you consider a fast move if it meant an increase in monthly income/savings? How much time do you need to prepare to move?
Subscribe to my feed to read about the second step as soon as its posted!