Monthly Budget Recap: March '11
Monthly Budget Recap: March '11
Since incomes are relative, my recaps are in percentages instead of dollar amounts.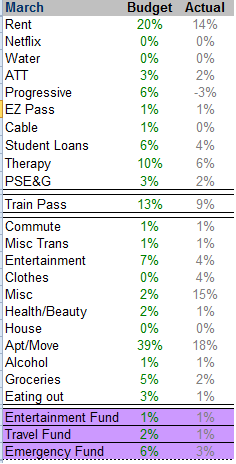 Moved!
This was a weird month because I unexpectedly moved to a new apartment. Throughout the month, I incorporated moving expenses (and profits) into my budget and made decreases in other categories to offset the unplanned spending.
Income
I sold my car, received my apt security deposit, received an auto insurance credit and sold various pieces of furniture this month. This resulted in an additional $2,000 to my monthly income. For this reason, the percentages are not a direct comparison but still useful to know.
Fixed Expenses
I cancelled my auto insurance when I sold my car and received a refund for what I had already paid. I went over on my texting again, however, I have decided to increase my monthly plan by $5. I have the room in my budget to do this and it makes more sense than paying the overcharges every month.
Total January Fixed Expenses: Budgeted – 62%; Actual – 35%
Variable Expenses
When I learned I was moving, I immediately added an "apt/move" category to my budget and made adjustments in other categories accordingly. Thankfully, I over-estimated my moving expenses!
Total January Variable Expenses: Budgeted – 62%; Actual – 50%
Savings
This month I set-up categories for multiple saving funds in my budget. Instead of only adding to my emergency savings, I want to be able to add a little bit to an entertainment fund (races, concerts, etc) and a travel fund each month I included them in my budget to start a routine of adding to them.
I took money from my emergency savings to cover the security deposit of the new apartment. When I receive the check from the old place, it will immediately go into the emergency fund.
Total January Savings: Budgeted – 8%; Actual – 5%
Still need a budget?
Download my 2011 Budget Template!
Readers…
How did your March budget look? What unexpected expenses did you have?