Leslie's Guide to Moving: Part 1 – Determining What You Can Afford
Leslie's Guide to Moving: Part 1 – Determining What You Can Afford
I am putting together a moving guide to chronicle my most recent move to a new apartment. The guide will include finding a new apartment, moving cheaply & efficiently, and adapting to a new lifestyle.
Before you can start looking for a new place to live, you need to determine what you can afford. You may desire to live in a certain part of town, style of apt, or have your own place, but before you can even get started looking, you should make a realistic budget to keep you within your means.
Signing the lease on an apartment then realizing the rent makes your comfort of living tighter than you'd like, is a recipe for credit card debt.
Yes, this entire guide will involve apartments – I'm just not ready for mortgages yet.
The 30% Rule
Take your current budget, or create a new one if you don't already have one (but you should!) and start plugging in a few increased rent numbers. It helps if your budget can show you the percentage of your income.
The "golden rule" is that your rent should be no more than 30% of your monthly income. Start with that.
Put in a rent amount that equals 30% of your income into the budget. Now look at the rent prices for your desired living situation and see how that matches up. Higher? Lower?
Keep in mind that your lifestyle may change as well. If you move to an area with a lot entertainment options, restaurants, or 24 hour places, you may find yourself spending more on eating out than you are used to. Try to factor this into your budget!
Moving to a Higher Cost of Living
I have been working in New York City for the past year commuting an hour and twenty minutes from central New Jersey paying 13% of my income on commuting.
I decided in the beginning of the year that I wanted to move closer to or directly to the city. However, I also knew that there would be a huge difference in rent.
I immediately began toying around with numbers on spreadsheets, comparing living on my own to living with roommates.
Living Sans Car
The most important factor I had to keep in mind with this type of move, is that I would not need a car. So, the first change I made was to take my current budget (from January) and add up my car expenses.
EZ Pass: $25 (not monthly)
Car Gas: $120
Insurance: $154
That alone is almost $300 without factoring in any car repair/maintenance. That extra money can go towards my rent without noticing much of a difference.
Moving closer to work means commuting will be cheaper. Moving into the city will reduce my commuting cost by at least $200.
That is $500/month saved simply by moving closer to work and selling my car.
Living With Roommates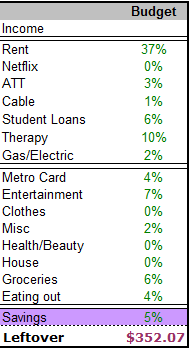 In January, my rent was $535/month. Putting all of the car savings into this means I can easily afford $1,000/month rent. This is a reasonable rent price in nyc with roommates.
Even though it brings my rent percentage to 37% of my monthly income, it allows me to put over 10% into my emergency fund and meet my goals of adding to a travel and entertainment fund as well.
Living On My Own
Playing with the numbers some more, let's see if I could comfortably afford my own apartment.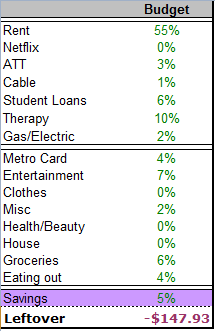 Jumping up to $1,500 rent (55%) of my income puts me into the red by $150. If I really wanted to try to make it work I have a few options: stop going to therapy, don't put any money into savings, or stop paying my student loan (I am paid ahead).
Really though, that might be a bit unrealistic. I would worry about cutting into my savings when going over my entertainment budget or buying clothes. Also, this does not allow for any travel fund savings.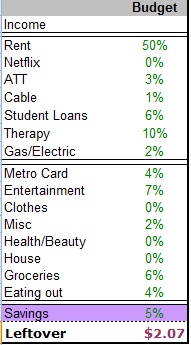 Now let's try another 1BR option, a little bit cheaper to put me right at 50% and just barely above the line with $2.00 left at the end of the month. This includes putting 5% into the emergency fund every month, and not into any other saving fund. This is do-able though would not leave much wiggle room. However, privacy is definitely a worthy bonus.
Go Get Started
Now that you have mocked up some budgets, you have an idea of what price range you can and cannot afford for rents. This will keep your apartment hunting in the realistic realm.
Readers, what do you think?
How much of your income could you comfortably spend on rent? What types of sacrifices would you make to be in your ideal living situation? To live in a highly desirable area, how much of the 30% rule should be thrown out the window? Would you sacrifice adding money to savings or paying a bill to live in your perfect place?
If you're curious what I decided, subscribe to my feed so you can read part 2 of my Ultimate Moving Guide as soon as it is posted!