Monthly Budget Recap: February '11
Monthly Budget Recap: February '11
Since incomes are relative, my recaps are in percentages instead of dollar amounts.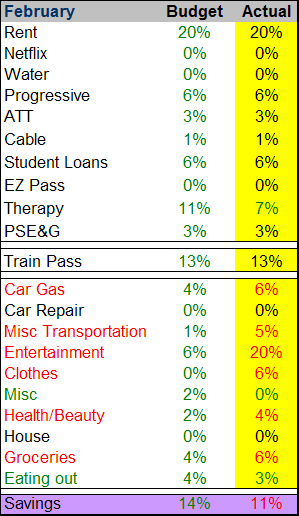 Fixed Expenses
All good this month! I ended up skipping two therapy sessions due to scheduling conflicts this month, so I did not spend as much on that as predicted
Total January Fixed Expenses: Budgeted – 62%; Actual – 59%
Variable Expenses
I am embarrassed – I did terrible this month. I went waaaaay over my entertainment budget. However, most of the purchases are for shows/races/events that are occurring later in the year. I need to decide if I should spread these purchases out better or just get them all out of the way at once, as I did this month.
I caved in and finally bought a winter coat (on clearance!) after living in NJ for four years without one. Unfortunately, I did not budget for that.
Every month I budget low for groceries with the good intentions of buying less, but it is so difficult for me to do this. I need to be more realistic about this. To balance it out, however, I was under budget for eating out, which always makes me happy.
Total January Variable Expenses: Budgeted – 22%; Actual – 40% (eeeeeeek!)
Savings
Again, I did not put as much into my savings as I would have liked to. I need to better enforce this.
Total January Savings: Budgeted – 14%; Actual – 11%
Still need a budget?
Download my 2011 Budget Template!
Readers…
How did your February budget look?