Non-Recipe: Flatbread Pizzas
Non-Recipe: Flatbread Pizzas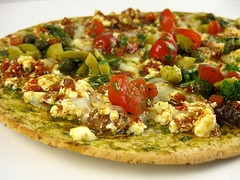 These single-serving pizzas can be custom-made to whichever deliciousness your heart desires.
This is an easy and quick meal that everyone will have time to make even after a long day at work.
What You Need
1 piece of Flatbread
Tomato Sauce
Toppings of your choice. IE: Mozzarella, Parmesan, Peppers, Onions, Pepperoni, Sausage, etc.
What You Do
Assemble your pizza! Spread a thin layer (or to your preference) of sauce on the piece of flatbread then layer on your toppings.
Bake at 400 until the cheese is brown and bubbly (10-15 minutes)