Monthly Budget Recap: January '11
Monthly Budget Recap: January '11
Since incomes are relative, my recaps are in percentages instead of dollar amounts.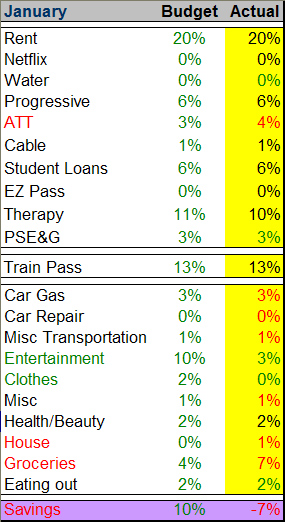 Fixed Expenses
Once again, I went over my texting plan. This happens from time to time but still not often enough for me to up my plan to unlimited.
However, other utility bills were under budget this month, bringing my total fixed expenses under budget.
Total January Fixed Expenses: Budgeted – 63%; Actual – 62%
Variable Expenses
This was the first budget where I broke "entertainment" out into three separate categories: miscellaneous, clothing and entertainment.
I also made the new category "misc transportation".
Creating these additional categories really helped me to gain a better idea of my spending, without over-complicating the budget.
By breaking "entertainment" out into other categories, it's noticeable that I really don't spend that much on actual entertainment at all.
I really over-budgeted that this month since I was not sure of my actual "entertainment" expenses. For February, I will adjust accordingly.
I did realize that I spend more on "misc" than I had thought, since I was previously including this into "entertainment." I went over budget in this category, but not enough for a percentage change. I will increase my budget in this for February.
Total January Variable Expenses: Budgeted – 25%; Actual – 20%
Savings
Confession, I poorly planned a lack of paycheck this month and had to emergency withdrawal from the savings. I put all of it back and then some, but not enough to make up the 10%. I plan to make up for this in February.
Total January Savings: Budgeted – 10%; Actual – 7%
Still need a budget?
Download my 2011 Budget Template!
Readers…
How did your January budget look?