DIY: Homemade Deodorant Experiment
DIY: Homemade Deodorant Experiment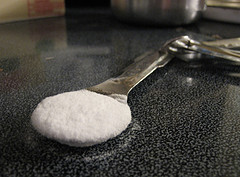 I ran out of deodorant over the weekend, completely forgot to pick some up and found myself desperate come Monday morning!
After doing a quick google search, I decided to concoct my own powdered deodorant and see how it goes. I figured anything was better than nothing.
Powder Mixture
After reading that some people found baking soda to be a skin irritant, I decided to mix 1/4t baking soda with 1/4t cornstarch. I then used an old kabuki brush to brush the powder mixture under my arms.
I used just about the whole thing, as I really was not sure how much I would need. You could barely see the dusting under my arms and I just brushed it on as you would apply any other powder.
Success?
Today was the first day I tried it out and I am going to call it a success. This was under a normal work environment which 75% of the day is spent sitting at a desk. There was a point in the day I became quite warm and felt I was sweating a little but did not smell any odor.
Granted, I did not do any vigorous activity but knowing my own body (everyone is different), if I had gone completely without, my coworkers would not have been pleased.
I was actually very surprised at how well it worked and it did not take any longer to apply than normal stick deodorant. In fact, I did like that my underarms did not feel slimy as they do with stick/gel deodorant.
I wore a sweater, so I cannot judge if it would leave residue on a tank top. I will test this later.
Continuing the Experiment
I plan to continue this throughout the week to see if it continues to hold up as well as commercial deodorant. Tomorrow will be a good test since I will be at a photoshoot all day, which involves running around on my feet for 8 hours. If I am dry and odor free for that, I will be converted.

I plan to make further adjustments by adding an essential oil for a light scent and determining just how much I need to apply.
I also will see how it holds up during a workout. I have my doubts for that but even if I only used commercial deodorant solely for workouts, that would still save money.
Readers…
Have you made a DIY version of a product out of necessity?