Homemade Pita Chips & Parmesan Jalapeno Dip
Homemade Pita Chips & Parmesan Jalapeno Dip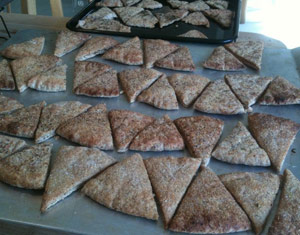 This recipe for homemade pita chips & parmesan jalapeño dip is my go-to for get togethers.. It is fast, easy, fairly affordable and all homemade. This combination is a huge crowd pleaser.
Let's start with the pita chips. You can flavor them however you like and I encourage you to experiment with different seasonings and flavors that you like. Usually, I just stick with salt and some garlic powder then offer several dips to kick up the flavor. I have spread pesto on them as well. This is totally up to you.
---
Homemade Pita Chips
2 Packages of Pita Bread (white or whole wheat)
Olive Oil
Garlic Powder
Salt/Pepper
Brush olive oil on a piece of pita to coat.
Sprinkle seasonings to cover. Using a pizza cutter (this is the easiest method, knife will work just the same), cut each piece of pita into 8ths.
Arrange closely but flat on a baking sheet.
Bake 400 degrees for 10 minutes or until brown
---
Now onto the dip! It's best to make this dip the night before as giving the flavors time to mix together really improves the taste. I have used both canned and fresh jalapenos and really don't see much of a difference since it is mainly used to offset the creaminess. Use the amount of jalapenos to your preference of spiciness. Kick this up with hotter peppers.
Parmesan Jalapeno Dip
2 Packages of Cream Cheese
1C Mayonnaise
1C Parmesan Cheese
2 Cans Jalapeno Peppers (3-4 Fresh Peppers)
Mix the cream cheese and mayo.
Add in the chopped, de-seeded peppers, sprinkle parmesan cheese on top.
Store in the fridge overnight. Set out to room temperature, stir and enjoy!
People are going to love you.