Pumpkin Chocolate Chip Muffins
Pumpkin Chocolate Chip Muffins
Pumpkin is underrated.
It is an easy to work with ingredient that provides a subtle flavor that goes easily with everything; namely chocolate.
There simply are not enough pumpkin/chocolate combos in food. So here is my contribution to the pumpkin world.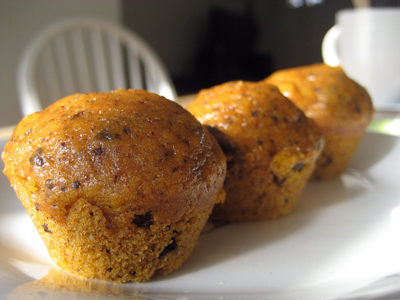 These pumpkin chocolate chip muffins are very quick to make and will be gone as soon as you set them on the table, so be sure to make a double batch.
---
Pumpkin Chocolate Chip Muffins
Ingredients
1/4C vegetable oil
3/4C brown sugar
2 eggs
1C canned pumpkin
1/4C water
1 1/2C flour
3/4t baking powder
1/2t baking soda
3/4t cloves
1t cinnamon
1/2t nutmeg
1/4t salt
1/2C semi-sweet chocolate chips (4 baking squares chopped)
Directions
1. Mix sugar, oil, eggs. Add pumpkin and water. Mix together the baking flour, baking soda, baking powder, spices and salt. Stir in chocolate chips.
2. Fill muffin cups 2/3 full with batter.
Bake in a greased muffin pan at 375 degrees for 20 minutes for normal muffins
Bake in a greased mini muffin pan at 350 for 15 min for mini muffins
---
Notes
First, I want to make it clear that these are addictive! You've been warned.
I never use chocolate chips in any of my baked goods. I always stock up on baking squares when they are on sale then simply chop up 4-5 squares into little chocolate bits and add that to my batter. For these muffins I used 4 squares and that seemed to be a perfect amount.
I made two batches of these (because the first batch was gone in literally minutes). However, I used up all my cinnamon in that first batch so I switched up the second batch. I omitted the cinnamon completely and didn't measure the other spices. I used about 1t of cloves and a hair less than that of the nutmeg. Both versions, cinnamon and cinnamon-less, came out fantastic! I actually preferred the more clove flavor which complemented the pumpkin perfectly and helped to counter the sweetness. They were definitely more flavorful than sweet (and I'm not a huge cloves fan either).
The key to these, is the moisture. They taste so moist and rich on the inside. The regular sized muffins more so but the mini ones are more fun to eat