Save Money in November with NaNoWriMo
Save Money in November with NaNoWriMo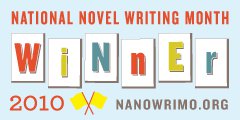 At the end of October, I lost my mind for a moment and voluntarily signed up for NaNoWriMo – National Novel Writing Month.
It is free to sign up and will save you money in November because you will not have time to leave your computer!
Upon signing up, I agreed to write a 50,000 word novel in the 30 days of November.
And I did. 50,437 words to be exact.
Writer's Block
It was much more difficult than I had thought it would be. There are a couple obstacles to face, the main one being ideas. With the time constraint, you cannot waste too many days dealing with writer's block. From the beginning, make sure that your idea is strong and that you actually like it. You will be spending 30 days with these characters, make sure you like them.
Time Never Stops
Another obstacle is time. Ideally, if you write 1,600 words a day, you will finish on time. However, in the real world that is not practical and I definitely had to spend several Friday nights pumping out 4,000 words to catch back up.
Never Leaving The House
Because of the time constraint, sacrifices had to be made. It had not occurred to me just how much time was involved in writing 50,000 words. Instead of going out after work and on the weekends, where I normally might have spent money, I stayed home (or spent $3 at a coffee shop) and wrote the entire evening.
I did not kill time by mindlessly browsing around on Amazon or any other Internet store because writing or thinking about writing consumed all of my extra time. I was only in a few situations the entire month that involved spending money. I even used free writing programs such as Focus Writer and Scrivener (Free Windows Beta).
In general, getting into a cheap hobby and devoting yourself to it is a great way to enjoy your free time without spending a lot of money.
What hobby of yours do you consider a money saver?