My First Christmas Tree Does Not Have To Be Frugal
My First Christmas Tree Does Not Have To Be Frugal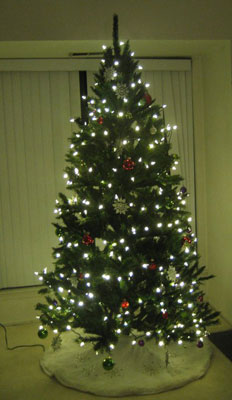 I have not had a Christmas tree in 11 years. Technically, all the trees before that were my family's, since I was living at home at the time.
I have never had my own tree since living on my own.
For the past few years, I told myself that I wanted to have one, but when the time came, I could not justify the expense of a tree, ornaments, other decorations and lights along with the space to store everything. I let numerous Decembers pass, not wanting to spend the money on a tree.
This year, however, I decided was going to be the year.
I really really really really wanted a live tree but simply could not justify paying $60+ for a one-time tree. Instead, I sucked up my childhood nostalgia and bought a 7' unlighted artificial tree at Lowe's for $83. Considering this should last me over five years, I can justify the cost.
I found some simple, pretty decorations at Target for $5 (round ornaments) and $1 (snowflake ornaments). The led lights were $7/box at Walmart – they were the most expensive of the decorations and I know I could have saved money by going the non-led route.
Decorations are an easy area to be frugal in because everyone has them. Use your external resources and ask your friends or freecycle if anyone has extra decorations that you can use. While I did buy a few for myself, I borrowed some others from a friend. Less for me to buy and store.
I did not go out of my way to shop around for the best price or find the best deals on trees or decorations. The entire cost is unnecessary to begin with, so I decided, consciously, that I was going to buy what I liked – not what was cheap.
The unnecessary $150 or so I spent on the entire tree is completely justified every time I walk downstairs and smile when I see my very own first Christmas tree.
Sometimes, you just have to do what makes you happy.
What unnecessary costs have you spent for happiness?