Why You Need Dropbox
Why You Need Dropbox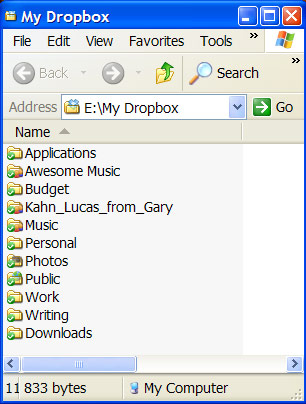 Dropbox is a free win/osx/linux program you install on multiple computers.

It offers you free (for basic service) storage space on their server that syncs all of your files automatically on every computer you have it installed on.
Simply set up an account and link each different computer install to your account.

Anytime a file is changed, it is automatically uploaded to their server and every Dropbox folder is synced at the same time.
When you first turn your computer on, dropbox will sync up all your files in the "My Dropbox" folder. When installed, it looks just like any other explorer/finder window and you can drag/drop files just as you would any other files. It is seamless to use.
You can also access all of your Dropbox files on their website in any web browser from any machine.
No, you do not have to install Dropbox on your friends computer to access your documents. Just log into your account on their website and magically all of your files appear to view or download.

There is even an iPhone app that provides you mobile access to all of your Dropbox files. No more usb sticks, no more emailing.
Share a Folder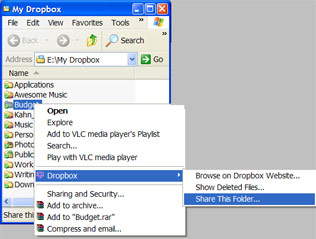 Dropbox makes sharing folders with other Dropbox users ridiculously easy. Simply right-click on a folder, then click on "Share this folder" and enter the person's email address you would like to share with.
If that person accepts your invitation and uses Dropbox, then your shared folder will magically appear in their Dropbox just as though it were one of their folders. Anything in the shared folder only takes up the actual folder owner's space.
As you can see, Dropbox puts a little people icon on any folder that is shared, so you know not to put any private documents (or photos) in there.
Public
If you would like to share a file with a non-Dropbox user, this can be done easily as well. Simply put the file in the "Public" folder, then right-click and click "Copy Public Link". This will give you a link that you can then share with anyone you want. Here is my budget template, in my "Public" folder: http://dl.dropbox.com/u/263735/template.xls
Budgeting
After trying Google Docs and Mint, I reverted back to the original budget excel worksheet I had started with. However, the major disadvantage to using this was not having access to the file away from home.
I could put it on a memory stick, but that was inconvenient. I could email it back and forth, but that was inconvenient.
With Dropbox, I simply keep my Excel file in "Budget" folder and magically I have up-to-date access to it on every computer I use!
If I need to check my budget at work, I can. If I want to update it on my netbook, I can. I don't have to log into a website to deal with it and I still get to use my favorite excel file. This is painless and easy.
Writing Documents
The entire reason why I began using Dropbox recently was so I could keep my writing files updated between two machines. This saves worrying about carrying a usb stick everywhere and having to transfer the file every time you switch computers.
After losing one too many emails and blog posts, I have began typing lengthy writing documents in a word program. For NaNoWriMo, I began using FocusWriter and this is what I am using to type this blog post at the moment.
I had not done this earlier because I always wanted universal access to my blog posts, on the off chance I have downtime somewhere and can work on one. Dropbox comes through perfectly for this and I trust its stability far more than WordPress.
Work Files
For the times you have to bring work home, unfortunately. However, there are times you would like access to a file at work; recipes, address book, gift list. Having easy access to these is very convenient. I actually use Dropbox, legitimately, at work to easily share large files with external clients.
Music
It may not be the same as a cassette but making a "mix tape" (so to speak) on Dropbox was the initial reason I installed it a year ago (then for some strange reason completely forgot about it).
The "Share" feature of Dropbox really comes in handy with sharing music. The best part is if you share a folder with a person, they can then add their own files to the folder as well. It's an interactive mix tape and I cannot think of an easier way to share your favorite tunes.
Shopping Lists
I have a gift list in my dropbox folder so whenever I think of a gift for someone, I can just add it to the list. This is better than post-its or using the note feature on my iphone because I can access it at home, at work and on my iPhone anyway. The same principle can be applied to having a grocery shopping list.
Previously I would email myself many of these things but then I would end up with a bunch of emails to myself with only one sentence. Not very organized.
Directions/Addresses/Recipes/Phone Numbers/Birthdays
Start your own address book that you easily have access to and maintain between two computers. Since only you have access to your Dropbox files, it is still secure (as secure as putting information on the internets is, of course).
How do you manage files between multiple computers?