Investing In Yourself and My Self-Investment Confession
Investing In Yourself and My Self-Investment Confession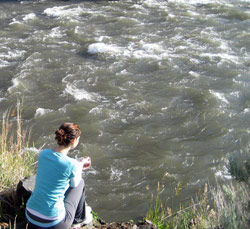 Living a frugal lifestyle often leaves us with a "no spend" mentality for anything, especially when dealing with internal problems we think we can handle ourselves.
However, solving these internal problems can become a useful resource in our lives; which is what frugality is all about. Investing in yourself and spending your own money, means you will appreciate what you receive.

Because You Really Are Worth It
Has there been something you wanted to do for yourself but are putting it off because it is "too expensive"? Would it make your life better in the long-term? Will you end up needing it in five or ten years anyway? How long have you been considering it?
If we can buy $100+ dresses, shoes, purses, tools, computer supplies, etc., why do we not even consider expensive services that will better our own lives? Although many of these services (therapy, gym) may not be noticeable right away to anyone but ourselves, that does not mean the money is wasted or the service is not worth it.
Budgets are Flexible For a Reason
While I have always dealt with family issues, I have pushed off going to therapy because of the high cost. I knew that it would be beneficial for me but I just could not justify $100/hour to talk to someone.
Then I thought back to a pair of shoes I bought recently, that was practically the price of a one hour session. My new netbook cost three sessions. My monthly train pass is the cost of three sessions as well.
After recently ending a relationship, I decided it was time to finally do something for myself that will have long-term benefits. With the encouragement of my friend Sarah, I adjusted my monthly budget and found I could comfortably afford therapy sessions.
This is what budgeting is for. Making adjustments to fit the important stuff in and taking the less important stuff out.
Unfortunately, I did have to cut into my monthly budgeted savings, but I still feel it is a justified cost. Investing $300/mo on myself now will mean less headaches later.
My Self-Investment Confession
I have a confession. This is not the first time I have spent a large amount of money to invest in myself.
Two years ago, I spent $5,000 on a cosmetic procedure. I invested in my body and immediately saw a dramatic increase in my quality of life and general well-being.
I did make sacrifices to afford the procedure. I started a lucrative freelance project but still had to take out a loan. I am embarrassed to admit that, but no one's perfect. The loan was paid off rather quickly and I am glad I did not wait any longer to have the procedure.
I ultimately justified the therapy sessions by realizing that if I can spend $5k on my outside, then surely I can spend the same amount on my inside.
Short-Term Price Vs. Long-Term Cost
While the service may sound expensive right now, what will not doing it cost you later?
Readers, do you have a self-investment confession?