How To Throw A Party And Stay Frugal
How To Throw A Party And Stay Frugal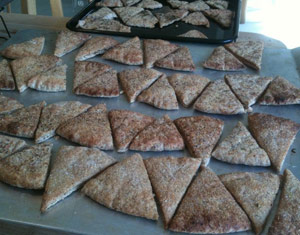 I love hosting even though it really is not that cost effective. Hosting a party at home is a sacrifice I make since I enjoy cooking, baking and getting my friends together. I like the environment of a home better than a bar. While it is cheaper than having dinner and drinks out, it is still costing me more to host than it does my friends for showing up. However, it is possible to throw a party on a budget.
Party Food
Food is the most expensive part of throwing a party. Here are some tips to control your food purchasing for the party:
Make foods based on ingredients you already have at home. This allows you to try out new recipes and spend less on groceries.
Don't over buy. Trust me, people only complain when you run out of drinks! Also keep in mind that there will always be last minute cancellations.
For movie nights, there is nothing cheaper than home-made microwave popcorn. One bag of popcorn kernels lasts a very long time and three bags of popcorn will cost you pennies!
Home-made baked goods are another cheap option. Simple items like cookies, brownies or muffins are cheap and snackable.
Buying whole celery and carrots is always cheaper than the pre-chopped ones. Mange your time by chopping & cleaning while your brownies are baking in the oven.
Here are some of my favorite go-to foods when hosting a party. These are all easy to make in a bulk quantity and general enough that everyone will like to eat something:
home-made pita chips and jalapeno dip
vegetable sticks
peanutbutter brownies
baked potato wedges
lil' banana bread muffins
Party Drinks – BYOB
Having a BYOB policy for get togethers is the most affordable solution and is pretty standard. This also makes for one less stressor to have to worry about when planning for the party.
The Fun Stuff
There are multiple ways to provide entertainment at a party:
Movies are the easiest. If you have a Netflix subscription or access to Amazon's On Demand movie system, I am sure you will find a movie you all can agree on. Free on Netflix streaming and ~$5 on Amazon is still cheaper than going out to the bar.
Drinking games like beirut, king's cup, presidents & assholes are easy to learn and gets people engaged.
Party games like Taboo, Scattergories, Loaded Questions, Scene It and Balderdash are great for large groups and convenient for someone to just play a few rounds.
When inviting friends over, it is important to keep in mind who you are inviting. I recommend movie nights when everyone knows each other and game nights when not everyone in the group is friends. It is less intimidating for a new person to feel comfortable when everyone is playing a game, having fun, laughing, learning about each other and has to speak up. I want to be able to invite different groups of friends over at the same time and found that this is the easiest way to do it without people feeling left out or intimidated by a large group of friends.
General Hosting Tips
This is more related to hosting than money but here are some tips for easy clean up because at the end of the night you'll be tired and will want the fastest clean up possible:
Before the party starts, empty the garbage and have a bag or another garbage can right next to it for bottles/cans.
Have all your food ready and prepared so when guests arrive you do not have to be finishing something up in the kitchen.
Clean all the dishes and empty the dishwasher so you can just put the dirty dishes in there as they come up.
While it may seem costly to host a get together at home, there are ways to host on a budget and it definitely is more affordable for your friends than a night out for dinner and drinks!
Please share your frugal hosting tips!