Life In A Call Center
Life In A Call Center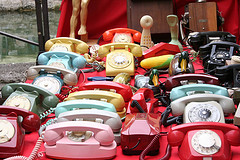 Myself and most other frugalites push the idea that "it doesn't hurt to ask" when dealing with companies.
When asking for a reduced interest rate, a credit on down service, or a policy discount, what is the worse that could happen? They say no? But if they say yes, you get monies!


However, I honestly have never thought of the other side of the phone. I have never thought about the person whose job it is to deal with all of us who are trying to save money.
Well, my friend does just that. She is a customer service representative for a major cable company and did not mind sharing with me some facts about her job that I was not aware of! I want to share them with you so that, while we should continue being frugal, perhaps we could be a little bit less selfish.
Grading
Essentially, every representative is given a "report card" for each call they take. Below are the list of items they are "graded" on:
Length of call. Calls are supposed to be 8 minutes long. The longer they are, the more this will hurt the employee's "grade." Of course, this conflicts with the company's selling strategy, as it is difficult to trouble shoot a problem and make a sale in only eight minutes.
If a customer is credited, the amount of end of year bonus for all employees is reduced. I hate this one. I hate that the employees are being punished for the company's mistakes. If my cable goes down for 24 hours and I want a credit, why should all the employees be punished for this? Maybe someone can explain this to me.
Raising your voice. Okay, agree with this one.
Hanging up on a customer. Even if the call is accidentally disconnected, the employee has to call the customer back. Unfortunately, it seems not all company's have this policy.
Selling. An employee can be fired if they do not meet what the company calls an "unspoken quota." However, the customer reps do earn a commission on each sale.
Amount of hold time. From my experience, it seems either not all company's adhere to this one or employees just do not care.
Amount of time between calls. This is their polite way of saying, "amount of calls taken." If the employee has to update your account once you hang up, this cuts into their phone time.
Honestly, learning all this has opened my eyes. I will still ask to be credited when I deserve it, but perhaps rants about the company really do nothing other than hurt the employee who has to listen and remain polite. I certainly do not want to hurt the person working at a call center all day.
Does learning any of this affect how you will talk to customer service next time?