27 And Frugal's First Birthday!
27 And Frugal's First Birthday!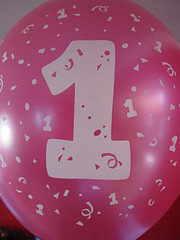 I have been writing for a year! That's amazing! As far as documentation goes, this certainly was a great year for it!
I started this blog after reading a Simple Dollar post. I felt Trent's advice was out of touch to the younger-but-professional, committed-but-not-married audience. I began to realize that frugality in general is often geared to families. Few frugal blogs mention drink specials, discount tickets and free activities not appropriate for kids. I decided to write to this audience.
After having the blog only three months, I lost my job. I almost gave up this site. How could I write about managing money when I did not have an income? I continued and struggled on.
I paid off my car in January and started working again in March. My commuting cost tripled but, with the help of this blog, I stuck to my budget and managed my monthly expenses even with the extra cost.
Thank You!
I am grateful for everyone who has helped this blog grow! Thank you for all the tweets, comments and for spreading the word.
I especially thank: Budgets Are Sexy, FrugalNYC, Mantene, NJ Newsroom, Rainy Day Saver, Red, Serendipity, tanyasnarks, and my boyfriend for all the support!
First Year Highlights
Recipes
DIY
Money
Entertainment
Leslie's Favorites!
Again, I really want to thank everyone who reads 27 And Frugal and for making this lil' blog what it is!