Red Velvet Cupcakes with Classic Frosting
Red Velvet Cupcakes with Classic Frosting
This was my first attempt at red velvet cake and it came out extremely delicious! This recipe is easy to follow and pretty foolproof. Just be sure to mix the cocoa and food coloring thoroughly so the color is solid and not streaky.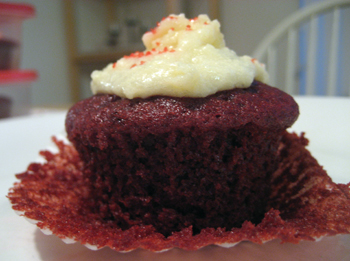 The frosting is absolutely wonderful! I had never made frosting in this way but I plan to use it for most of my future cakes. I liked using white sugar instead of powdered as it did not come off as thick or sweet but still tasted and looked great. This is the traditional frosting for red velvet cake and it seems to fit better than cream cheese frosting.
I started with this recipe from AllRecipes and made my own changes so please follow below.
---
Red Velvet Cupcakes with Classic Frosting
What You Need
Cupcakes
3-4T unsweetened cocoa powder
1oz red food coloring
1C buttermilk
1t salt
1t vanilla
1C vegetable oil
2C white sugar
2 eggs
2 1/2C flour
1 1/2t baking soda
Classic Frosting
1C milk
5T flour
1C white sugar
1C butter
1t vanilla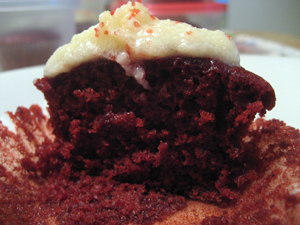 What You Do
Cupcakes
In a small bowl, mix the cocoa and food coloring into a paste. Set aside.
In another bowl, mix the buttermilk, salt and vanilla. Set aside.
In a large bowl, mix together the vegetable oil and sugar. Beat in eggs one at a time, then stir in cocoa mixture. Combine flour and baking powder then beat in buttermilk mixture alternately with flour mixture, just until incorporated.
Pour batter into two greased cupcake pans.
Bake at 325 for 20-25 minutes.
---
Classic Frosting
In a saucepan, combine the milk and flour. Cook over low heat, stirring constantly, until mixture thickens. Set aside to cool completely.
Cream together butter, sugar and vanilla until light and fluffy, then stir in the cooled milk/flour mixture, beating until icing reaches spreading consistency.
Enjoy!