13 Tools For A Frugal Kitchen
13 Tools For A Frugal Kitchen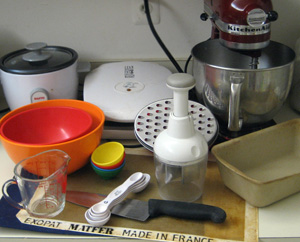 Alton Brown may not be a frugal expert but his kitchen-item buying advice is dead-on: "Do not purchase uni-taskers."
However, there are items that we eventually need to purchase. Here are some of my personal recommendations, items which I could not cook or bake without!

Magnetic Double-Ended Measuring Spoons – These are far better than any metal spoons on a ring. Being able to use one spoon for both dry and liquid ingredients is extremely convenient. You will never lose the spoons either due to their brilliant design.

Cheese Graters/Containers – I love that these containers make it so easy to grate cheese without making a mess. When you have extra, just put the lid on top and store it in the fridge.
Bendable Cutting Boards – I love using these for chopped veggies and chocolate. Makes it so easy to dump chocolate pieces into the mixing bowl.
Rice Cooker – I never even bothered with rice until my roommate brought one home. I definitely couldn't live without it now! Being able to pour three ingredients into the bowl then walk away, is the easiest side dish I can think of.
A Good Knife – Until I received this knife as a gift, I was using dull blades that took forever to chop through anything. A good knife means preparing food is not only quicker but is also more enjoyable and less tedious.
KitchenAid Mixer – Sorry but it's true! I know this is an expensive one, but if you bake often (say, once a week) the amount of time this will save you is immeasurable!
One Measuring Cup – A set of measuring cups is not necessary. This all-in-one measuring cup is all you need.
Set Of Mixing Bowls – A good set of mixing bowls can be used for everything! Serving salad, holding potato chips, along with cooking and baking.
George Foreman Grill – This is another time saver. I can season chicken breasts and throw them on the foreman grill in just a few minutes. Several minutes later and they're done. As a bonus, it does not take up much counter space at all.

Food Chopper – I love this for chopping up nuts, vegetable, oatmeal, anything! I consider this a decent substitute for a food processor.
Flexible Prep Bowls – I thought these were silly at first but I have found them to be very useful. They are a perfect size for dipping. I use them the most for making my spice mixes. I can measure out the spice into the bowl, then squeeze the bowl into a funnel to pour into a small spice container. Works perfect without making a mess.
Fleximat – Think of this as permanent parchment paper. It does make a difference for my cookies. I use it as a cheat actually, instead of upgrading my cookie sheet. Granted, if you never bake this will be useless to you.

Pampered Chef Stoneware – I love stoneware. For cookies, potatoes, breads, brownies, casseroles and other yummy foods I cannot think of, stoneware will bake them perfectly every time!
Readers, what are your favorite tools in the kitchen?