Beer Pancakes Recipe
Beer Pancakes Recipe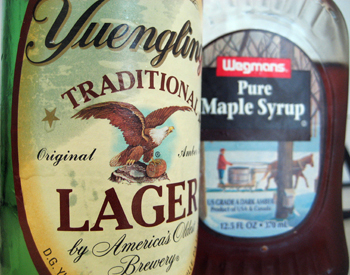 These pancakes have the perfect amount of flavor and density. It is more common for me to have beer than milk on hand, so I directly substitute the two. I actually prefer the flavor as it creates a perfect counter to the sweetness. You barely need any toppings on these lil' pancakes. They melt in your mouth, are a perfect texture and a perfect sweetness.
Beer Pancakes
Ingredients
1 egg
1C white or wheat flour
3/4C Yeungling (or any light-medium flavored beer)
1T white sugar
2T vegetable oil
3t baking powder
1/4 t salt
1 capful of vanilla
Directions
Beat egg with a fork until fluffy
Beat in everything else just until smooth
Grease a frying pan with butter/oil and pour 1/4C of batter into pan. Sprinkle with cinnamon then cook as normal.