Declutter by Re-Purposing Household Items
Declutter by Re-Purposing Household Items
When you are looking to purchase something new or when you are decluttering your home, it is important to think about re-purposing items that you no longer use into something far more useful! Here are some examples of how I re-purposed household items into new ones without paying a dime!
Jewelry Organization with a Belt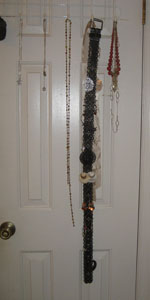 After losing umpteen pairs of earrings and having all my necklaces tangled into one big knot, I looked into purchasing a jewelry box. Unfortunately, I could not find one that met my needs and was not keen on paying $30 for something that can only hold 5 necklaces.
Instead, I took an eyelet belt that I hardly wear and hung it up on a hook behind the bathroom door. All of my earrings fit perfectly on the belt. They are not too crowded, I always can pair them up, and they will not fall out of a box. I have been using the belt as an earring holder for over a year now and have yet to find a better system. As you can see, I use the other hooks to hang earrings from.
I do realize that the belt is no longer a belt, but I really do not miss it as an accessory.
Easy Kitchen Organization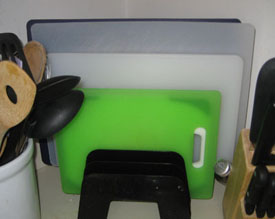 When re-organizing our kitchen, I saw a cutting board organizer at Target for ~$20. I immediately realized that i had the same thing at home that I never even used! It was a plastic folder organizer for your office. I planned on using it to organize my desk eventually… Well, I decided to move it into the kitchen and it works great!
Even though it is plastic, the organizer holds the cutting boards without a problem.
Shoe Racks Are For More Than Just Shoes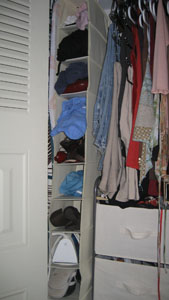 I initially bought the vertical shoe organizer to better use space in a small closet. Since then, I moved into a room with a larger closet and more shoe storage space.
Now I use the shoe rack for special occasion shoes and for general purpose storing. The little cubby is the perfect size for my iron! I have a mini ironing board that just hangs in my closet, so the two are always together.
I also found the sections to be great for keeping outfits together. I will put a pair of running shorts, a sports bra and a tank in one section. This way they are always together when I'm looking for work out clothes and wrinkles are not a worry.