Oatmeal Cinnamon Chip Cookies
Oatmeal Cinnamon Chip Cookies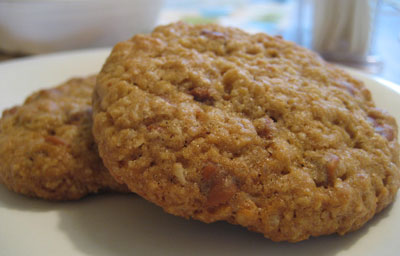 These oatmeal cookies are simply amazing! They do not have raisins (yay!) and do not have chocolate (sadness) but are still tasty and sweet.
The key ingredient here are Hershey's Cinnamon Chips. They may be hard to find. The only grocery store in my central New Jersey area that carries them is Wegman's. I usually stock up on them when I go.
Oatmeal Cinnamon Chip Cookies
What You Need
2 sticks of butter, softened
1C brown sugar
1/3C white sugar
2 eggs
1 1/2t vanilla
1 1/2C flour
1t baking soda
2 1/2C quick oats
1pkg Hershey's Cinnamon Chips
What You Do
Beat butter and sugars until creamy; Add eggs and vanilla
Stir in flour and baking soda
Stir in oats and cinnamon chips
Bake at 325 for 12 minutes.