Weekend: April 9-11, 2010
Weekend: April 9-11, 2010
Every weekend, I will detail my activities and expenses to provide an example of how to implement a frugal mindset while still having a fun and active life.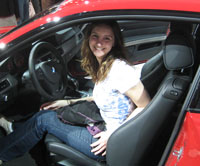 Friday
I started the night with some yummy home-made mac n cheese. Then some friends called so I met them at Chipotle (but didn't eat anything) and ended up going out to a bar after. One beer was bought for me and I did not drink anything else. It was a nice low key night with friends.
Friday Total Cost:$0

Saturday
I spent Saturday at the New York Auto Show. My boyfriend covered the Ferry tickets and I paid for admission ($28 for both). We spent the next three hours walking around looking at all the neat cars, while I asked a million questions about engines. It was a great time! We ate a hotdog and shared a drink on the way out. Once home, we made a quick marinara sauce (since we had already spent enough money for the day) and watched a movie on Instant Watch.
Saturday Total Cost:$28
Sunday
Sunday was a gorgeous day! I made pancakes for breakfast, spent the rest of the morning lounging around, then went for a run in the afternoon. I had leftover pasta for dinner and watched another Instant Watch movie.
Sunday Total Cost: $0
Total Weekend Cost: $28