Weekend: April 2-4, 2010
Weekend: April 2-4, 2010
Every weekend, I will detail my activities and expenses to provide an example of how to implement a frugal mindset while still having a fun and active life.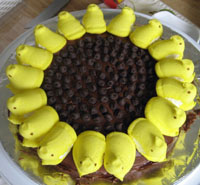 Friday
I had Friday off and I splurged! I treated myself to $40 worth of cake supplies at Candyland Crafts with the thought to attempt making a cake for an Easter dinner on Sunday. After my shopping spree, I went for an evening run (which was wonderful) then spent the rest of the night playing Heavy Rain on the PS3 that my friend is letting me borrow over the weekend. I had a get together planned for Saturday so I did not mind having Friday just being a loungy evening.
Friday Total Cost:$42 (excluding the groceries)
Saturday
Saturday was a gorgeous day! I spent the morning running on the Columbia Trail. Then I cleaned the house because I planned on having people over. In the evening, I had some friends over to watch the sad sad sad MSU game. It was still a fun time. We played some games, ate some pizza and I made soft baked pretzels. I footed the bill for the pizza. It was only two pizza's and not everyone was eating so it was just easier than collecting money. I had already planned on that ahead of time so it was not an issue. I have learned from experience, that if you do intend to collect money from everyone for a pick-up meal, get the money ahead of time.
Saturday Total Cost:$29.85
Sunday
Sunday was Easter! I spent the morning trying to make a cake. I am a terrible cake maker. This attempt was supposed to be a layer cake, but one layer fell apart so I turned it into a single-layer cake. I still managed to decorate it and it, somehow, turned out quite cute! I took it to a friend's family's Easter dinner where it was a hit. I had a great time with my friend and her family and ate a ton of food! Since that took up the whole day, I didn't spend a dime.
Sunday Total Cost: $0
Total Weekend Cost: $71.85 (aye carumba!)