Monthly Budget: March
Monthly Budget: March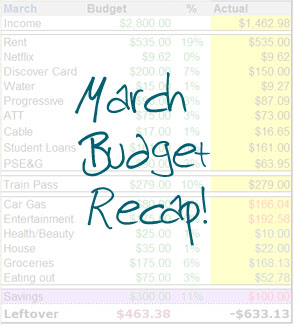 I did much better on my March budget than most people did with their tournament brackets! It was an odd month because I only received two paychecks due to starting the new job. I am looking forward to April being a normal month so I can adjust to my new commuting expenses and weekly paycheck.
Fixed Expenses
I was under or even with all of my monthly bills (yes, even my cell phone). I was very happy to see my gas/electric bill come to only $63.95/each this month. I had $90 budgeted because I was not quite sure what to anticipate for wacky March weather.
Total March Fixed Expenses: $1,105.58
Variable Expenses
I came in under for three categories, but overspent in two.
Here's the breakdown:
Car Gas: $166/$80. I took am unplanned trip to visit friends.
Entertainment: $192/$175. Close, but I still need some restraint.
Health/Beauty: $10/$25.
House: $22/$35.
Eating Out: $52/75. Not bad considering it is so tempting to eat yummy nyc lunches every day.
Groceries: $168/$175. Too close for comfort. I would rather keep my spending closer to $150 so I definitely need to work on this.
Total March Variable Expenses: $611.53
New Commuting Costs
I have a new fixed monthly cost now that I am commuting from central NJ to NYC every day. I did not include this in the fixed expenses total above. My monthly train pass is $279. Yes, that blows. That is the reason I reduced my car gas budget down to $80 because I really do not want to spend any more in transportation costs than I already have to. Now, I might try to see if there are any alternative public transportation methods that are cheaper, but what I use now is very convenient. So I am going to have to find the balance there.
Savings
I did not put as much into savings as I had budgeted because of the lack of paychecks this month. Again, once I adjust to the new pay schedule, I will hopefully get everything back into check.
March Total
Total March Expenses: $1,996.11
Readers, how did your March budget turn out? I would love to hear!