Homemade Wheatables!
Homemade Wheatables!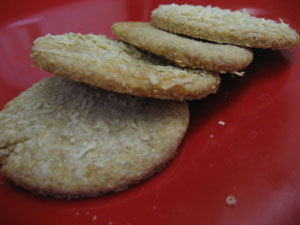 These home-made wheat crackers are not only absolutely amazingly delicious but they are also easypeasy! I promise!
Lots of thanks to Cooking For Seven for the awesome recipe!
What You Need
1C Whole Wheat Flour
1C White Flour
1/4C White Sugar
1/2t Salt
4T butter, cut
1/2C Milk
Salt/Seasonings
What You Do
Mix together the flours, sugar & salt. Add the butter. Gradually add milk until dough comes together. (Just a few minutes in a stand mixer)
On a floured surface, roll out 1/3 of the dough as thin as you can get it. Sprinkle with salt, seasonings, etc. Cut into shapes. Transfer to a stone or any baking sheet covered with parchment paper.

Bake at 325 for 20-25 minutes

Original recipe

My Thoughts

I had some trouble getting the crackers as thin as they should have been. The ideal method would be to use a pasta roller. However, all I had was a rolling pin so I just got them as thin as I could. I thought some of the crackers were a little thicker than they should have been but no one complained!

For the circle shape, I improvised and used the top of a cocktail shaker! That process was pretty tedious and next time I make these I will just use a pizza cutter to cut easy squares.

You definitely can experiment with seasonings on these crackers. I put table salt on most of them. I shredded Parmesan cheese on some others. They both turned out yummy but I liked them without the cheese a little bit better.

Readers: I would love to hear your success stories and seasoning experiments with these crackers!