Want to Save Money? Focus on Saving!
Want to Save Money? Focus on Saving!
If you are just beginning a savings plan, take a look at my comprehensive
Guide To Managing A Savings Account. There you will find a defined planning system, goal calculator and bank information.
When starting to get your finances in check, everyone will tell you to create a budget. Budgets are key to tracking your spending. Included in your budget, should be a category for savings. However, if you do not track your savings any other way, it is easy to lose sight of your savings goals!
Tracking savings allows you to see financial improvement; to see how successful your budgeting actually is!
Savings Tracker
I have created a separate worksheet just for savings within my budget spreadsheet. Savings and spending go hand-in-hand, so it really is important to keep these together.
My monthly budget & savings worksheet can be downloaded here: http://www.27andfrugal.com/files/easy_peasy_2010_budget.xls
If you already have a budget that works for you, simply copy/paste the Savings worksheet and use it on it's own.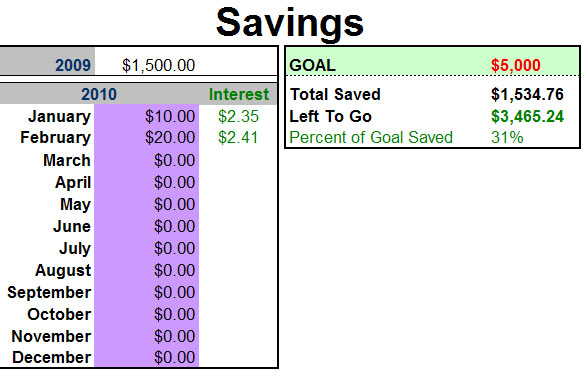 Ideally, the worksheet should mimic your savings account, so start with your beginning of the year balance. This sheet will be filled in automatically once you input your savings into the monthly budget sheets. Or simply manually enter in how much you are transferring to savings each month.
The interest does need to be entered manually from your monthly bank statement. Seeing exactly how much or how little interest you are earning every month may make you want to look into alternative saving account options.
The box on the right is the most important part of the whole sheet… your goal! Do everything you can to keep this goal in the back of your mind each time you make a purchase. When you are over 50% of the way to your goal, you will have incentive to put more into your savings every month.
Set a Savings Goal
It is important to have a savings goal. This will help curb your spending and help prioritize your spending habits. If you make a special "vacation fund", then next time you are tempted to spend $12 on a movie ticket, you might stop and think that the $12 could be better used while onvacation. Or that you would rather eat out on vacation, rather than the same old restaurants around home.
To create a realistic savings goal, use the savings goal calculator to help you determine a goal you can reach within a reasonable amount time.
You are on Your Way…
Tracking your spending is just one step in getting your finances in order. Being able to use this worksheet to track your spending will bring you even closer to seeing the balances you want to see. The idea of this worksheet is to be more aware of your savings account in general, especially if you make monthly automatic transfers. It is easy to forget about your balance and goal when you are not looking at it every month. You could make a similar worksheet to track a credit card. Just jot down your balance, each monthly payment and how much you have left to pay it off.