My Quest to Bake Home-Made Bread
My Quest to Bake Home-Made Bread
Between The Simple Dollar's home-made bread post and my new KitchenAid mixer, I had plenty of inspiration to try baking my own bread.
How To Bake Homemade Bread Fail
My first attempt was a recipe for "Rapid Mix Cool Rise White Bread" that is in the recipe book that came with my mixer. I used it so I could get used to mixing times and speeds. My first loaf came out perfect! I was very very excited at the premise of making my own bread whenever I wanted!
My second loaf, did not rise. I killed the yeast with water that was too hot. So I immediately went out and bought a $5 digital thermometer at target. With that help, my third loaf came out perfect just like the first one.
After two good loaves of bread, I thought I had this baking bread thing down pact. So, I tried to make wheat bread. Boy was I in for a treat. I had absolutely no idea what I was doing and my first loaf did not rise.
So I tried again. Second loaf did not rise.
Two failures started to get me down so I switched gears to a white cinnamon swirl bread. Fail. I do not even know what went wrong with this one!
Even though I was definitely starting to get discouraged by this point (and annoyed at seeing all my hard work end up in the garbage) I did not give up.
I tried another white cinnamon swirl bread recipe and, finally, had success again!
I am a little nervous now to try other variations of bread. I want to try wheat again or maybe half/half. I want to perfect a sandwich bread and an eating bread. For now, I will stick with the two loaves that I can make and just hope that practice makes perfect. I now know how temperamental bread baking can be and will be better prepared for failures (and not get too overconfident by the successes).
---
Rapid Mix Cool Rise White Bread Recipe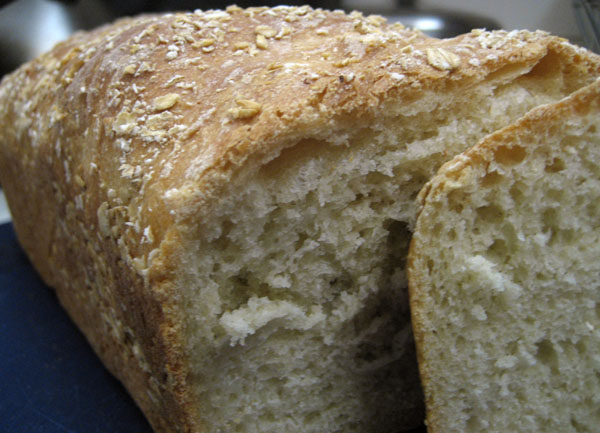 This recipe makes 1 loaf of a delicious eating white bread with lots of flavor. Tastes great for plain toast, toast with fried egg on top, grilled cheese, and soup dipping.
3-3 1/2C all-purpose flour
1T white sugar
1 3/4t salt
1 1/2pkg (3 1/4t) active dry yeast
1/8C butter, softened
1C very warm water (120-130F)
Place 2 1/2C flour, sugar, salt, yeast and butter in mixer bowl. Using dough hook, mix on speed 2 for 20 seconds. Gradually add the water and mix a minute longer.
Add remaining flour 1/2C at a time and mix on speed 2 until dough clings to hook and clings to sides of bowl, roughly two more minutes. Knead with dough hook on speed 2 for two minutes longer.
Cover dough with plastic wrap and a towel. Leave it be for 20 minutes.
Shape into a loaf and place in a greased loaf pan. Brush with oil (cover with chopped oats if you'd like) and cover loosely with plastic wrap. Refrigerate 2-12 hours.
When ready to bake, slowly uncover the dough and let stand to room temperature for 10 minutes.
Bake at 400F for 35-40minutes. Remove from pan immediately and cool on wire racks.
---
White Cinnamon Swirl Bread Recipe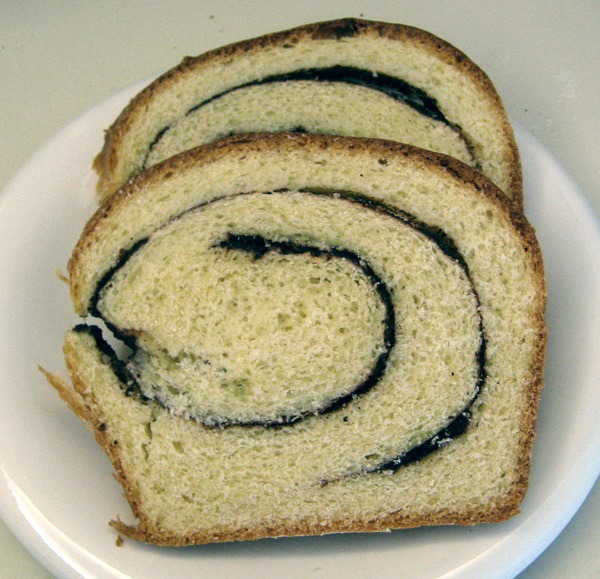 This recipe makes 1 loaf of a delicious soft white sandwich bread with a super yummy cinnamon swirl inside.
Dough
1pkg (2 1/4t) Active Dry Yeast
1/4C white sugar, plus a pinch
1 1/4C warm milk (100F)
1/2 stick unsalted butter, at room temperature
3/4t salt
1 large egg
1/4t vanilla extract
Pinch of nutmeg
3 3/4 to 4C all-purpose flour
Swirl
1T white sugar
2t cinnamon
2t cocoa powder
3T unsalted butter, softened
Put the yeast, pinch of sugar and 1/4C milk in a small bowl. Let rest for 3 minutes. The yeast may not have bubbled but it should be soft.
Place 1C milk, butter and 1/4C sugar into mixer bowl. Using paddle attachment, mix on speed 2 for two minutes. Add salt, egg, vanilla and nutmeg. Mix for another minute. The mixture will look rather "curdly". Add the yeast mixture and mix on Speed 3 for a minute. Add 2 3/4C flour while the mixer is off, then stir just until combined.
Using the dough hook, add 1C flour and beat the dough for 2-3 minutes on speed 2. Add flour 1T at a time until the dough cleans sides of bowl.
Once that happens, knead the dough on speed 2 for 3-5 minutes until the dough is smooth and has a sheen to it.
Place the ball of dough into a greased bowl, turning the dough inside the bowl; then cover the bowl with plastic wrap. Put the bowl in a draft-free place until dough doubles in size; about 1 1/2 hours. (Optional: To help the bread rise, boil a pot of water and place it in the oven. Put the covered bowl on a rack above the pot of water. Keep oven door closed.)
Once risen, wrap the dough in plastic wrap. If you plan to bake that same day, freeze the dough for 30 minutes. If you plan to bake it later, refrigerate the dough overnight.
When ready to bake, prepare the swirl by whisking together the sugar, cinnamon and cocoa. Roll the dough out on a lightly floured surface into a 12×18″ rectangle. Using your fingers, smear 2T of the butter onto the dough. Then sprinkle the sugar mixture on top.
Roll the dough tightly, starting from the short side. Fit dough into greased loaf pan, seam side down and tuck the ends under.
Cover loosely with plastic wrap and set in a warm place. Let the dough rise about 45 minutes.
Once risen, melt the rest of the butter and brush top of loaf. Place the loaf pan on a baking sheet and bake for 20 minutes. Then cover loosely with foil and bake another 25 minutes (or until inner bread temperature is 200F).
Let the pan cool for 5 minutes on a wire rack then remove from pan and cool loaf on wire racks.