Weekend: February 5-7, 2010
Weekend: February 5-7, 2010
Every weekend, I will detail my activities and expenses to provide an example of how to implement a frugal mindset while still having a fun and active life.
Friday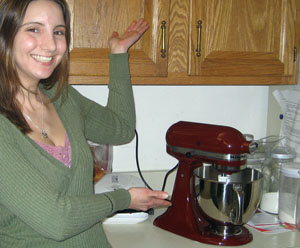 Friday was great day. I scored two job interviews and was given a KitchenAid mixer as a gift from my boyfriend! To celebrate, we went out to a local bar with some friends in the evening. One drink was bought for me but really the evening was just spent socializing. After the bar, we walked across the street to a pizza place where some people ordered food but I declined the cheap grease and made myself a snack at home.
Friday Total Cost:$0
Saturday
We were invited to a friend's house for dinner Saturday night. The spinach pie she made was fantastic and I brought some home-made chocolate chip cookies for dessert. We went out to another local bar by their house after dinner. I didn't spend any money there and had a great time chatting with my friend.
Saturday Total Cost:$0
Sunday
Sunday was spent lounging around the house until the Super Bowl. I was invited to another friend's house for a small Super Bowl party so that is where I spent the evening and had my dinner (mmmmm chicken wings!). I brought a cheesecake that I had made earlier in the day and had a fun time.
Sunday Total Cost: $0
Total Weekend Cost: $0!