Easy Recipe: Chicken Noodle Soup
Easy Recipe: Chicken Noodle Soup
This recipe is so ridiculously easy, you'll never buy canned soup again!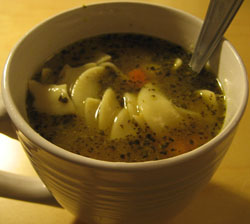 Chicken Noodle Soup
Cook 1/2C chopped onion and 1C chopped celery in a pot with 1T melted butter for 5 minutes until veggies are tender.
Stir in 60oz of chicken broth (4 cans), 14.5oz of vegetable broth, 1/2lb uncooked bite-sized chicken pieces, 1C chopped carrots, 1/4t basil, 1/4t oregano, salt and pepper. Bring to a boil then simmer 10 mins.
While all that is simmering cook the egg noodles in a separate pot then add to soup and simmer another 10 mins.
Eat and enjoy!