The iphone: More frugal than it looks
The iphone: More frugal than it looks
I waited a while before finally sinking money into an iPhone. Not only was the price of the phone holding me back, but more so the monthly plan price. Before the iPhone, I was paying $53.62/mo for 400 rollover minutes and unlimited texting. I told myself that when I bought the iPhone I would have to cut out the texting plan. I saw this as reasonable since I mainly texted when I was bored and the iPhone has more communication choices (aim, facebook, email). So, last June I bought the iPhone 3GS. My bill shot up to $73.62. This includes 400 rollover minutes, 200 texts, and the unlimited data plan. I had budgeted for this and knew that I could afford it. I am fine with paying ~$75 for a cell phone.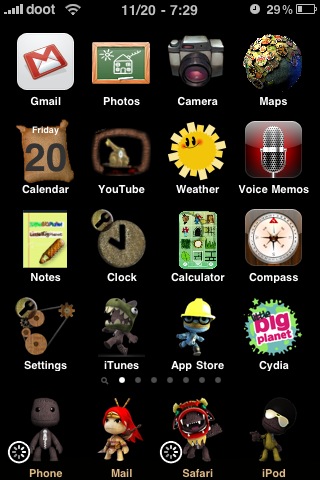 So far, this phone is already costing me an extra $20/mo ($240/year!) However, there were quite a few unexpected aspects of the iPhone that have been able to aid in my frugal lifestyle.
Shopping Lists: It's general knowledge that having (and sticking to) a grocery list at the store is a great way to stay focused on buying only what you need. My grocery trips tend to be unscheduled so even if I did make a list, I might not always have it on me. By using the native notepad or any of the Grocery List apps, you can add items to your list as soon as you run out and always have the list on you! The apps (there are free ones) let you put in the cost of the item so you can get an estimated total before you even get to the store.
Bank/Credit Card Apps: Being able to check my account at all times has been extremely useful for keeping me aware of my balance. Both PNC Bank and Discover Credit Card have an iPhone app out. As soon as you log in, it displays your balance right there. No more excuses for late payments or overdrafts!
Budget Apps: I did try some Budget Lite program when I first bought the phone but I didn't like it all that much. So now, I swear by Mint. The Mint iPhone application is awesome! The push notifications are very useful to know when my balance is getting low or when a large deposit has went through (woot paycheck!) Also, I can check my budget at any time! So, if I'm at the mall debating between two shirts, or invited to hang out with a friend, I can quickly pull up my budget and see if I have enough left in my "shopping" budget for two shirts, or see if I should suggest going out to dinner or just getting a drink afterwards. The more aware you are of your budget and finances, the better!
ATT App: This may sound silly, but using this app is a very easy way to keep an eye on your phone usage. I have already mentioned that I have been struggling with my texting plan. This way, I can open the app and quickly check my data usage to know if I'm staying on target for the month.
Coupons/Discounts: There are several coupon apps (I use mobiQpons) that uses your current location to show you deals & coupons you can use in the area. It is useful if you're in an unfamiliar mall or shopping area. There are also discount apps like the AAA Discount application. This app not only stores your AAA number for you (one less card to have to carry around) but also shows you local businesses that will offer you a discount just for being a AAA member. For example) According to the app, AAA members get a 10% discount at my local Payless ShoeSource.
Events: I am a big fan of the "Free Booze" app (created by myopenbar.com). Several times, I've been in nyc after a baseball game or before the clubs get good and was looking for something cheap to do. This app lists all of the open bar specials at various bars all over the city. If you're not picky about where you go, this is a great way to check out new places while enjoying a cheap drink.
Reviews: There are review apps for many things! You can view reviews of products via Amazon while you're right at the store. You can also read reviews of restaurants and businesses through the Yelp app. This is especially useful if you are in an unfamiliar area. The Yelp application will list restaurants (or whatever criteria you want) that are near your current location. Each restaurant is rated by stars via user reviews and there are full reviews to read as well.
Comparison Shop: There are several apps that will list the online prices of any particular item. That way you can see if you are getting the best deal in the store or on a particular website. Some apps even let you just scan in the barcode of the item!
My faves: Mint, Yelp, ATT, Notepad (native)
I do not regret my iPhone purchase one bit. I have definitely used the phone to its full potential and take advantage of everything it has to offer. Integrating the above apps into my life helps me keep my frugal habits along with staying right on top of my finances!