A Frugal Closet
A Frugal Closet
In my post yesterday, I mentioned that all of my clothes fit in my closet. Earlier today I was asked how this was possible. So, here's a picture. And an explanation.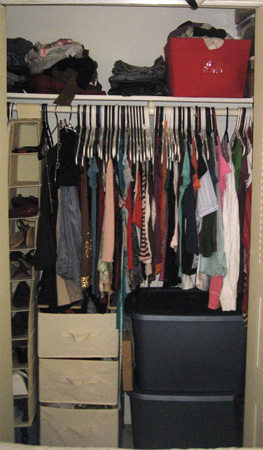 All of my winter clothes fit in my closet and all of my summer clothes fit in my closet. I put the off-season clothes in a plastic container and store it in our storage space under the stairs.
At all times I have the following my closet:
Hanging
Dresses
Shoe rack (stores shoes, my iron, running clothes)
Ironing board
Most dress clothes
All season clothes
On Floor
Collapsible 3-drawer unit (stores bras, socks, undies, running clothes, pj's)
1 large storage container full of computer supplies
1 large storage container full of sewing supplies
Acoustic guitar in case
Tall winter boots
On Top Shelf
Jeans
In progress sewing projects
Dirty laundry basket
1 medium storage container of desk supplies
1 medium storage container of misc items
1 box of hanging file folders
Since I share a small townhouse with roomates, I really have to be conscious of my space. As I mentioned, we do have a small storage area under the stairs but as this is shared, I cannot take advantage of it. I don't have an office or a sewing room, I only have my bedroom. So I have to do the best I can to fit all of my stuff into my room.
I do realize that the closet looks pretty packed but I assure you that everything has a place. There is an advantage to having a closet with so little extra space – there is no extra space to stuff with new items! Not only does this keep me from buying clothes but it also keeps me from cramming miscellaneous items into the closet and forgetting about them (or losing them) and re-purchasing/replacing later.
Another trick that keeps my closet from overflowing is that I won't buy more hangers. Right now, I have more than enough clothes and the perfect amount of hangers to fit all of my season's clothing in the closet. If I run out of hangers, then I start weeding out the closet. No excuses. If the clothes don't fit in the closet, then that is a sure sign that I have too many clothes!
Now, maybe you're wondering why I don't have a dresser. Well, for one, my room isn't the biggest. I don't like the look of a hulking piece of furniture in a small room. It feels suffocating to me. Secondly, dresser tops often turn into storage areas. I am a terrible piler! It is so easy to accumulate piles of anything on top of a dresser. When I moved into this townhouse two years ago, I had the strategy to minimize as many surfaces as possible in my room so there was less of a chance of papers piling up on me. Luckily, this strategy has worked!