Frugal Inspiration: If It Can't Be Displayed, Throw It Away
Frugal Inspiration: If It Can't Be Displayed, Throw It Away
"If it can't be displayed, throw it away," was Frank Lloyd Wright's architectural philosophy.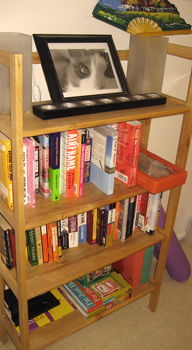 The houses he built had little closet space, no basement or garage (with a few exceptions) and plenty of built-into-the-design shelving. These shelves were meant to show off items important to the home owners. Wright saw no need for storage.
When I moved into this townhouse two years ago, I used Wright's philosophy as a guide when unpacking.
For starters, I ditched all my little unimportant knick-knacks. Most of these were gifts and had been sitting in a box anyway. I just gave them away via freecycle.
Second, I weeded out my picture frames. Any pictures that I had stored in frames but didn't want up, I made digital copies of the picture then removed it from the frame and used the frame for a picture I actually liked.
Third, I use my closet for my clothes and nothing else. And my clothes are in my closet and not anywhere else. I don't have a dresser. This makes it extremely easy for me to keep tabs on my wardrobe. If my clothes of the season no longer all fit in the closet, then it's time to do some sorting.
Fourth, I got rid of all the candles. Candles are very easy gifts for women but are hardly used. I had about ten candles that I didn't like and had been in a box for at least a year. I knew that keeping them all was pointless. So I kept a bag of tea light candles and two decorative candles that are actually out and displayed in my living room. If used correctly, candles can be a very cheap way to add color or design to a room. Always remember to light it at least once. Nothing looks tackier than a dusty never-used candle.
I did make three exceptions to this rule: 1) photographs, 2) seasonal clothes and 3) books. I decided to only display what I use and want to see of the three. Instead of trying to cram all of my books on my bookshelf (a possible task with an ugly result) I just put a few choice ones on the shelf in a decorative manner then put the rest in storage. When I dig up my seasonal clothes evey six months, I go through my pictures and books to see if I want to switch any out.
"If it cant be displayed, throw it away," is a very useful mantra to repeat to yourself when shopping, cleaning, or moving.